£500-£1k months inconsistently- To a fully booked one to one roster and a booked out group program with a waitlist!!
As you know, I am a big believer in women owning their value, and being paid handsomely for the work they are doing in the world! Success is an inside job, so when we can fully see, own and embody our unique value, and bring the energy of that to the strategic action, we get amazing results, as you will see. Something I see a lot of in the online space is amazing women undercharging. They have the belief that charging less=more clients, & this couldn't be further from the truth.
They think the reason for them not making the sales they want to is the price, and often because it's one of the easiest things to change in their business, they change it to feel more in control. (in humans needs psychology, they are attempting to meet their need for certainty.) What I know from supporting dozens of my clients to get fully booked and scaling their offers and filling those, AND from successfully scaling 2 out of 4 of my companies (and making millions through them.), is pricing is hardly ever the reason that people don't buy.
I'm excited for you to read this client transformation because you will see that signing more clients has literally zero to do with the price you are charging and EVERYTHING to do with mindset, energy and strategic action TM.
Once we had uncovered the key areas that needed our attention, with a plan to reach her goals to get fully booked and launch her first group offering, my client was able to move forward with clarity, renewed confidence, and she knew exactly where to focus her time to start getting consistent results. Things began to change rapidly! She TRIPLED her rates, (yes you read that right!) signed client after client into her new signature offering, and became FULLY BOOKED! My client had always had a desire to run a group coaching program, so we made it happen, she set her goal to sign 10 ladies, and she got 12! My client started to hit 3k months consistently, and then as the recurring revenue from payment plans compounded, she had her first 5k month! My client said she was AMAZED at how people started coming forward and how rapidly things shifted in her business. This illustrates what can happen when you are supported to REALLY allow your true authentic self to shine, and own your value with a strategic message. She's continued to grow her dream business, and it's given her the freedom and flexibility to live her life on her terms.
When my client came to me, she wasn't owning her value and she didn't know how to effectively use strategy to charge more and get paid! She believed that raising her rates would mean even less interest. She was afraid that if she signed more clients it would mean more work, and she would still not be earning the money she wanted to or have the freedom that she wanted from her new business. My client was holding so much of her authentic self back through fear of upsetting or triggering others, and this made it harder for her to show up online. We began to explore what beliefs were in the way of her owning her uniqueness online, her unique value and her self-worth. As expected (and with almost all beliefs.) they had come from her childhood. Once we uncovered the root cause, I helped her to reframe, heal and reclaim the parts of herself she'd been hiding. She became rooted in self-worth, and once she was sold on herself and had a marketing message that she felt lit up to share, she was able to show up online confidently and increase her visibility. (which I will come to.)
Before I dive into the energetics behind my client's transformation, here is a little bit more about why this is one of my key signature coaching pillars. Your energy effects your communication, think body language, facial expressions, and your tone of voice. All of these have an impact on your audience because your energy speaks to their unconscious mind, and effects how you make them feel. They are unconsciously and consciously deciding whether they like you and whether they trust you enough to buy from! If you don't trust yourself, and you aren't rooted in the belief in your marketing message and offers, it's going to be very, very difficult to attract paying clients through strategic action. The powerful coaching process I took this client through included energy work. We looked at what she was feeling in her body and what message it had to share with her, so she could acknowledge it, heal it and release it. This work teamed with her new messaging, meant that she started bringing a new energy that was palpable to her marketing communications including her live streams, content and emails, this is what I call magnetic marketing! Radio silence from her previous content turned into consistent leads and sales, her audience had been there, but they hadn't been activated to buy from her.
My client was using Facebook to market her business and she had an existing facebook group, however she didn't know how to effectively use strategy to generate consistent leads from it. So we started by working on her marketing message and the nuance of it, we also repositioned her offer to attract ideal clients that would happily pay her what she wanted to get paid! I then helped her map out a simple funnel and visibility strategy that would grow her email list and take her leads on an intentional journey from cold to hot, so they were activated and ready to buy! Once the leads started to come in, my client needed a robust strategy to convert on her discovery calls, I supported her using my sales call framework that converts at 90%. My strategy is unique and is one I have created from being in business for 26 years and loving sales because I look at selling as serving. These strategies, combined with the inner work, helped her to fill her one to one coaching container within a matter of a few months. My client had a dream to host a group coaching program, I supported her to gain clarity on the nuts and bolts of the container, so she had the confidence that it would deliver on the promise. We then worked on the messaging for this, and created another simple funnel to attract, nurture and convert women who would be a better fit for her first group program. It was important to my client that everything we were building was going to give her more of what she wanted from life, she wanted more time freedom as well as more money. I am so passionate about helping women use their business to create a Life by their design. (Which is why it is also the name of my podcast.) My client set a goal to hold space for 10 women inside her new program, and with the marketing we'd put in place, she had 12 people reach out and join! We discussed ways to serve more women from this launch, and she hadn't even got to the end of her launch before filling it. Through coaching, my client was able to discern that this really felt enough for her, and so we created a waitlist for the next round! This client now has assets in her business such as optimised sales pages and funnels, plus launch content that she is able to repurpose again and again, and a confident CEO mindset to continue to grow her business and sustain her results.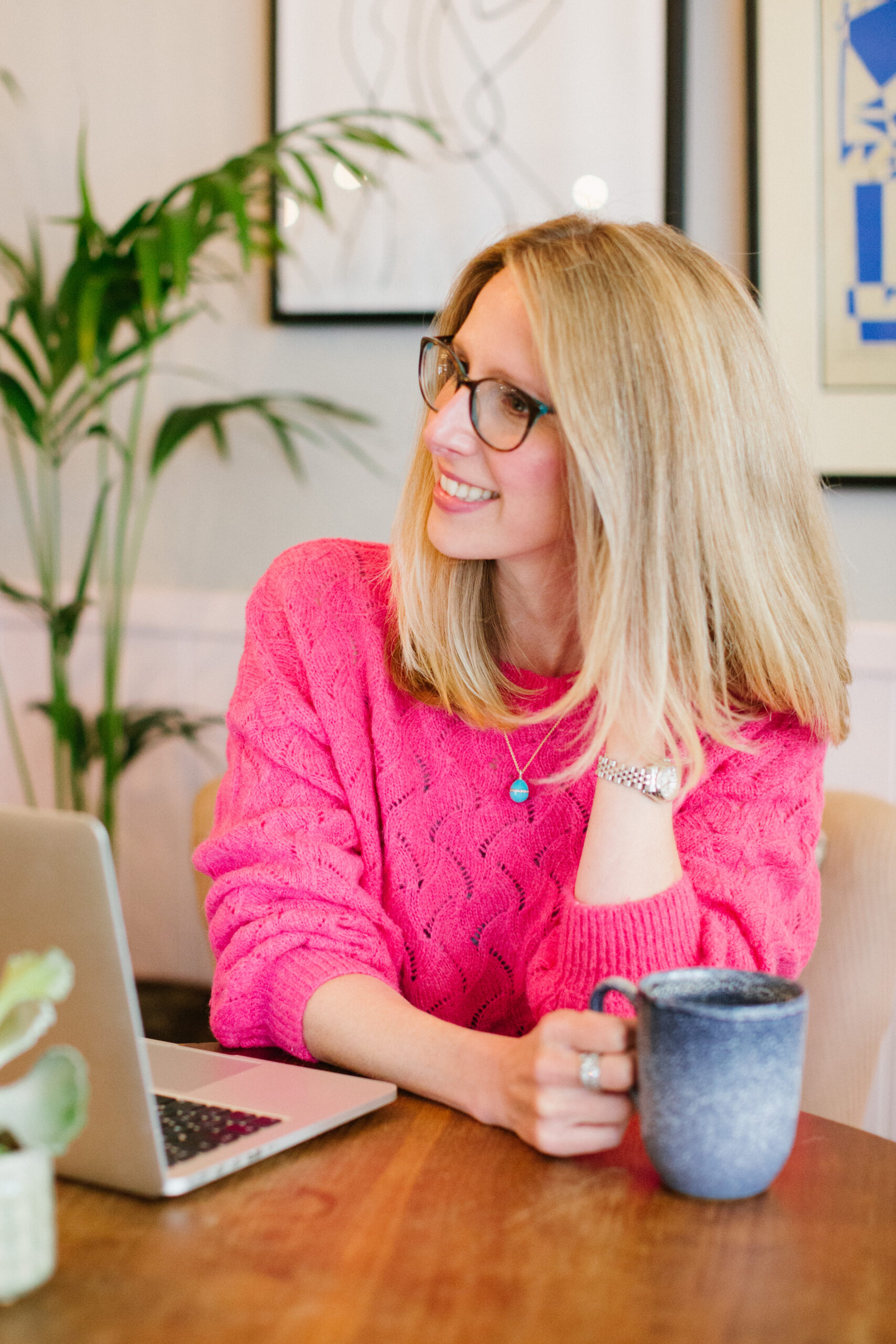 My Thoughts and takeaways:
1.) Everything we see reflected back to us in our business all boils down to self worth. As soon as my client was supported with powerful coaching to own her self worth, and integrate it throughout her business using effective strategic action, the game totally changed. 2.) Things are always changing, because as humans we are always evolving every moment of every day, and so are our businesses because we serve other humans! So it is never just mindset, just energy or just the strategy that we need to get us where we want to go. We need a combination of Mindset, energy and strategic action ™️ When my client gained clarity on how to fully express herself through her message, her confidence shifted… this combined with the deeper work on her self-worth meant the strategic action she took created results. 3.) When my client first came to me, she didn't know 'how' she would get the results, but she trusted herself enough to invest in the support that she knew she needed and desired. She knew deeply that everything she wanted was on the other side of her comfort zone. Her mindset – We only get one chance, and she wanted to walk her talk to be congruent with her message. This client did the work, and I mean really did the work! There was never a week when she didn't fully show up for herself and her investment. She did her mindset work in-between sessions as well as the work on her strategy. She brought everything to our sessions and didn't hold anything back, and this was what allowed us to create such an incredible transformation and epic results.
This series isn't to say these are what you must do in your business, because every business owner and every business is different, however it is to show you how Mindset, Energy and strategic action ™️ create amazing results because they are the pillars that every business is built on.





Claire Stansfield is a serial entrepreneur, business coach and Strategist for female entrepreneurs who are ready to get out of their own way and start, grow and scale an impactful, profitable and sustainable business that they love.
She started her first business 26 years ago at the young age of 16, and went on to grow it to be the UK's most successful wedding hair and make up company, she then took those skills and built 2 other businesses, a multi award-winning event florist and a product business.
Claire made 6 figure+ the first year in her coaching business and just 2 years in, is a multi 6 figure online business coach, she has achieved this by mastering her mindset and energy and optimising proven and effective marketing and sales strategy . She works only between 15-20 hours a week.
When Claire isn't leading her tribe of passionate and driven entrepreneurs, you will find her with her making up dance routines in the kitchen with her daughter age 5 and her husband.
Claire loves 1:1 yoga, mindfulness, walks by the river and lychee Martinis! When she is at home, she drinks about 8 cups of tea a day!!
Her work over the years has featured in Metro, The Guardian, Yahoo Online, Cosmopolitan, Glamour, BBC and more.